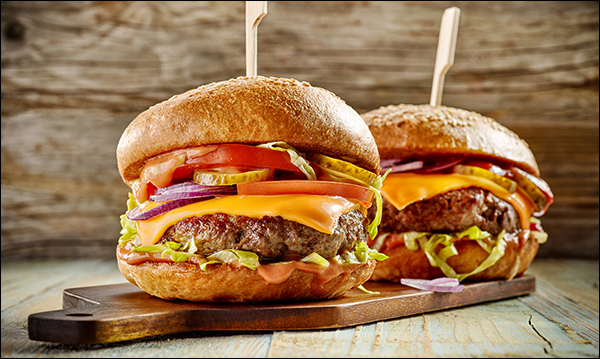 Everyone loves a great burger! Fargo has a lot of places to get one these days, but we want to highlight the absolute best that the F-M area has to offer below. We apologize in advance if the information below makes you extremely hungry! Click on the restaurant to check out their website and get eating! This is not a ranking, just a list.
The Tavern has about everything you need in the world of burgers! From the 6 specialty burgers, to a gluten free bun, to a build your own with a TON of options, a literal ton. If you can't satisfy your burger cravings with the first option on our list, you might want to check out our best pizza feature.
Unique Burger: The Widowmaker
The new place on the block is serving up the Lucys that were voted to be the best in the state of Minnesota! With 15 mouth watering burger options and well known Lucys, Crooked Pint deserves a spot towards the top of our list. If you are on their rewards program, you can get a free Lucy around your birthday!
Unique Burger: Beer Cheese Lucy
This Moorhead restaurant has the one of the biggest burger spreads we have ever seen!  Not only do they have an extensive build your own burger option, they also bring the hammer down with 12 specialty burgers!
Unique Burger: Cheese Curd Cheeseburger
The national franchise bringing gourmet burgers to the masses here in Fargo.  They have 10 different burger options, vegetarian and chicken options, that can be served on 4 different bun types.
Unique Burger: Dakota Burger
Sickies has become a Fargo staple and is known for the biggest selection around for everything.  They offer up 34 burgers with 5 different meat options.
Unique Burger: Macaroni & Cheese Burger
This fast growing cozy restaurant has been a local favorite since they first opened their doors.  They feature 14 different burgers, lots of add-ons and fresh cut fries.
Unique Burger: Just Not A Nutter Burger
Most people probably don't think of Lucky's when they think of grabbing a burger in Fargo.  You should really re-think that decision!  They have 16 mouthwatering burgers waiting for you.
Unique Burger: Campfire Burger
West Fargo's favorite bar and grill serves you up 14 delicious burgers, enough for any true burger lover.
Unique Burger: Jamaican Chopper Burger
While Wild Bill's enforces the rules or good times, they are serving up 7 different burgers that will be sure to appeal to any city slicker. They have great substitution options as well on meat, buns and sides.
Unique Burger: Feel N' Gouda
Everything here is unique and made from scratch, that's kind of their thing.  Break out of the normal burger routine tonight!
Unique Burger: Sunset Rider
This family ran national chain has perfected burger making. They do everything fresh with a personal touch. Plenty of options and huge servings of fries will keep you coming back!
Unique Burger: Bacon Cheeseburger
This family ran business has been around for a long time grilling up tasty burgers.  They won the Best Burger vote from Food Network magazine.  A great American classic joint that doesn't try to get all flashy.
Unique Burger: California Burger
Mick's was voted to have the best burger at the 2018 Burgers, Brews & BBQ Festival. What more do you need to know? They also have 18 different burgers & a new rotating specialty burger every week!
Unique Burger: Pizza Burger